Artificial Grass Installation - Cambridge
Would you like a lawn that never needs mowing or watering? Consider an artificial grass installation with help from the Artificial Grass Trade team today. We cover all areas in and near the Cambridge area, providing high quality artificial grass and installations into gardens, commercial grounds and public spaces. We guarantee competitive trade prices to both our public customers and trade consumers; this is because everyone to deserves to achieve their perfect lawn. Our artificial grass prevents allergies and is both child and pet friendly.
Our Grass Roots
We can either supply only or supply and fit your artificial grass. We also offer a 'Holding Hand' Service for those installing artificial grass themselves. We will lead them step by step through the process of installing, enabling them to save even more money.
Price Promise
We offer a 'Price Promise', which means we will be beat any like-for-like quotation you provide us with.
Benefits and Features
You can achieve the appearance and feel of a real lawn, without the hassle of maintaining it. Artificial grass has evolved after many years of development into an incredibly versatile and naturally, realistic product.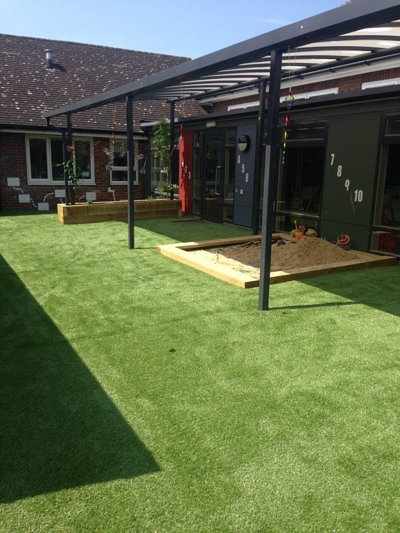 Expert artificial grass installations
Our tradesmen have developed many years experience dealing with professional artificial grass installation all around Cambridge, ensuring a timely and precise layering of grass into our customer's gardens. Installing artificial grass yourself can be a risky task; you will most likely end up with an uneven lawn, especially if you do not acquire the right expertise.
The artificial grass we stock is soft, natural looking and acts just like natural grass – just there is no mud or need for looking after. We supply artificial grass to both the public and to our trade customers, installing grass onto roofs, inside buildings and in public places of interest.
If you're located in Cambridge and are looking for an artificial grass installation, Artificial Grass Trade is the team of expertise you need to ensure an installation, which is effective. We devote excellent workmanship to any project given to us whether big or small, this is because we always ensure we carry out an excellent standard of customer service from first communications and even after installation.
Our experts will advise you on our artificial grass and provide you with a free, non-obligated quote to help you find out how much an artificial grass installation would be. However, with competitive prices and an excellent customer care plan you can ensure the best results from Artificial Grass Trade.